Minimum charge $95.00. See price breakdown below:
1/4 = $225
1/3 = $275
1/2 = $325
2/3 = $375
3/4 = $430
Full = $490
As you can see below, our  flat bed is divided into blocks using fractions to indicate space taken for pricing purposes.  Remember we cannot give you an exact price until we are able to actually see you junk. Example:  1/2 of the truck full would be $325 dollars.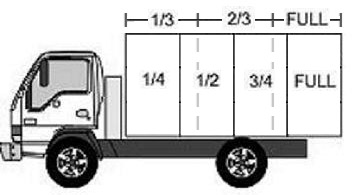 Truck Dimensions L=10′ X H=5′ X W=8′  (400 Cubic Feet /14.8 Cubic Yards)
Equivilant to approximately 12 refrigerators
For your benefit we cannot give you an exact price until we are able to actually see your junk.  We will quote the exact price upon arrival.  If you are happy with the on-site-quote we will then do the job on the spot.  If not then there is no obligation or charge for us coming out there.  Also to help you understand how this process works our pricing is based on how much space you junk fills up in our truck.
We can also haul single items, mattresses, refrigerators, couches, tires, etc.  See additional pricing examples below.
Freezers and Refrigerators have the dangerous gas freon, which acts to deplete the ozone.  Removing this gas is expensive. These surcharge prices reflect our additional cost of disposal. The fridge/freezer surcharge is in addition to the volume we pick up.
Refrigerator(s) /Freezers/AC Units $40 per unit
Washer/Dryer(s) $15 per unit
Tire(s) $7 per unit  (This charge applies only to 4 or more tires)
Where do I start?
STEP 1: Lets get rid of that Junk: We will explain our volume based pricing over the phone.  Our prices include all labor, weight, and travel time.  We'll schedule an appointment time that is convenient for you.
STEP 2: Free Friendly Estimates: We'll call you 20-30 minutes before arrival.  Our team will be on time. The Junk Haul Captain will secure a price before doing any work.
STEP 3: Say Goodbye to Your Junk: We will do all of the labor and loading no matter where your items are located.  Everything is properly recycled, disposed of or donated.  We also call you after the job is done to make sure you are 100% satisfied with our service.